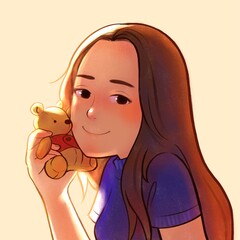 Erica Lee
Concept Artist & Illustrator
Los Angeles, United States
About
Hello! I'm Erica Lee, a concept artist and illustrator from Los Angeles. I love everything that involves stories and imagination; and, even better, is being involved in the creation and illustration of stories using various mediums. I grew up inspired by Japanese animation, 70's/80's science fiction culture, and high fantasy movies. My passions outside of the art sphere revolve around eating delicious food, singing at karaokes, and playing terribly in FPS games.
I work primarily as a background designer/environment concept artist in game and animation.
Skills
Concept Design
Environment Design
Illustration
Character Design
World Building
Background Layout
Software proficiency

Photoshop

Illustrator

Premiere

SketchUp

Procreate

Spine 2D
Productions
Video Game

The Faceless City - Indie Game

Year

2021

Role

Concept Artist / 2D Artist

Company

Hand Eye Society
Experience
Was primary illustrator for a Bentkey client working with two other artists designing backgrounds and environments, props, and characters for animated videos. Worked constantly with production heads and animators to publish 2+ animated videos per month. Expanded and set visual style of illustrations; taught and guided other artists in the visual style. Currently have 19 videos published with an average of 1 million views.

* This company does not reflect my own personal views

A game created for the Comics x Games jam by the Hand Eye Society. Partnered with a randomly selected programmer and developed and published a Flash-style minigame in just over a month. Created all art assets, including promotional artwork, and character animations. Published on itch.io with many positive feedback for art style and direction.

Developed 12+ fullscale, story game backgrounds and created 9+ puzzle backgrounds and 200+ puzzle assets and animated sprites for a children's coding game. Produced 3-4 completed backgrounds within one week from concept to finish in addition to other game assets. Worked from a previously set visual style and expanded on style with direction from creative lead.